Sydney love when Jennifer uses the dildo on her
Sydney loves it when Jennifer comes over and uses a dildo to stimulate her clitoris. With it being a holiday and all, she new in the morning that Jennifer would be over later. She got on her sexiest panties, and watch several XXX videos prior to her arrival.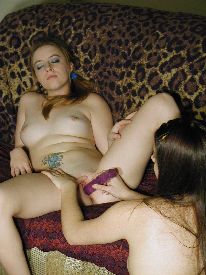 Sydney put some lubricant on her tight asshole, and then on a butt plug, which she put in her tight little asshole. She left the butt plug in for about an hour while waiting for Jennifer to arrive. She did this, as she knows how much Jennifer loves to also put a dildo in her ass. This way she would be all ready for it to be in her tight little asshole.
And sure enough Jennifer came right on time, and they stripped off their cloths and started playing on the couch. She put on some lesbian DVD on the big screen TV, so they could see other woman going down on each other.
It wasn't long until they both had cum, from the use of the dildo in their pussy. Next year they hope to invite more girls to come for holiday party.
Date: 2011-07-04
Your story was really inofrmtaive, thanks!
Posted: 2011-09-10 20:31:06
actually. im pretty namrol. you are the one who tries to make yourself look intimidating by cussing over the internet. (which btw your not very intimidating.) it actually makes you see immature. its not my fault i know what i want in life and i just happen to have a boyfriend who likes to satisfy me in bed. and as a matter of fact, i dont like snickers. so you can just shove that snickers bar up your ass for me. ok? thanks
Posted: 2012-08-30 17:17:05
Add your comment, currently '2' comment(s)